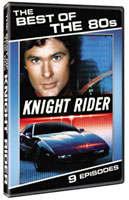 Universal Studios Home Entertainment this week announced the availability of a new collection on DVD called "The Best of the 80s". These two disc packs will feature the best episodes from Magnum P.I., The A-Team, Miami Vice and Knight Rider.
They have not publically announced which episodes have been included, only letting us know that the first disc will have a running time of 3 Hours 5 Minutes, and the second of 4 Hours and 52 Minutes. It will be available on June 14, 2011. Which episodes do you think they'll include?
You can pre-order it now on Amazon for $13.49.