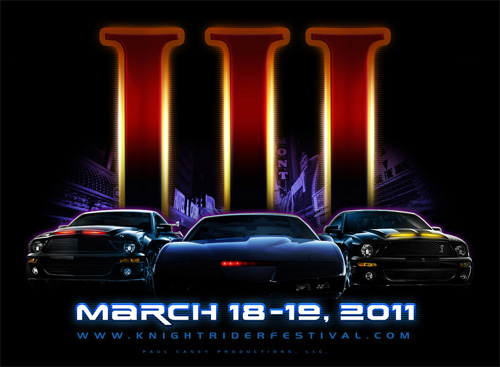 We're now officially less than a month away from Knight Rider Festival! Now in it's third year, producer Paul Casey promises us that this will be one for the record books. If you thought having Michael Knight himself appear last year was big, just imagine what we have in store for you this year!
Remember, as always, this is a free event for the Children's Miracle Network. Your support goes directly to help make a difference in a child's life. Don't delay, there is no guarantee that there will be a fourth year of this, so don't miss out!
But don't worry there is still time to be apart of history! If you are a KITT replica owner and haven't registered, you have until March 1st for the pre-registration cost of $25 ($40 afterwards). Bringing your car gives you access to the exclusive VIP party as well as some other fun things yet to be revealed.
For those without a car, there are a very limited amount of VIP tickets available for $35. It's the only way at Knight Rider Festival to be elbow to elbow with all the great cast and crew of Knight Rider.
Knight Rider Festival 3 - March 18-19, 2011, Las Vegas Nevada!