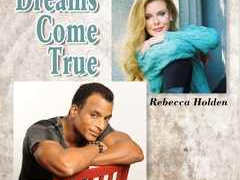 DREAMS COME TRUE, played at KnightCon whilst Tim proposed!
"Dreams Come True" is fast becoming the most popular wedding song in the world! We are receiving requests from around the world for our new single to be used for weddings, renewal of vows and to provide hope and inspiration.
3x Grammy Winner Jon Secada and I are so proud of this recording and would love to share our video with you:
Download "Dreams ComeTrue" on iTunes, or you may receive your (limited time) free MP3 of the song for your wedding, renewal of vows, or for some hope and inspiration, by emailing our producer at
JDiamond20@aol.com
.
In the meantime, may all YOUR '"Dreams Come True"!
Much love,
Rebecca