Before I begin, let me start off by saying that most of you have known me on the boards for quite a long time - in some cases (like on Knight Rider Online), over 10 years. You all know that I am not one to cause conflict or controversy and that I only post because of my love of the show. However, in this instance, I feel that it is important for you all to know the truth about Nick Nugent's "Knight Rider Companion". To say it borrows information from "Knight Rider Legacy" is an understatement. Yes, the pictures (excluding the screenshots from the episodes) are wonderfully reproduced and some have never been seen by most. The graphics are terrific. Much better than any photo in "Legacy". I have no problem with that - the problem I do have is with the content itself. There are a few new interviews, however, the MAJORITY of the text in this book is taken directly from "Legacy". I can't even tell you one new thing I read in "Companion" off the top of my head. To quote Jennifer Knight, "a picture is worth a thousand words" (mind you, these are only a few examples):
KITT Function Guide
-------------------
Companion: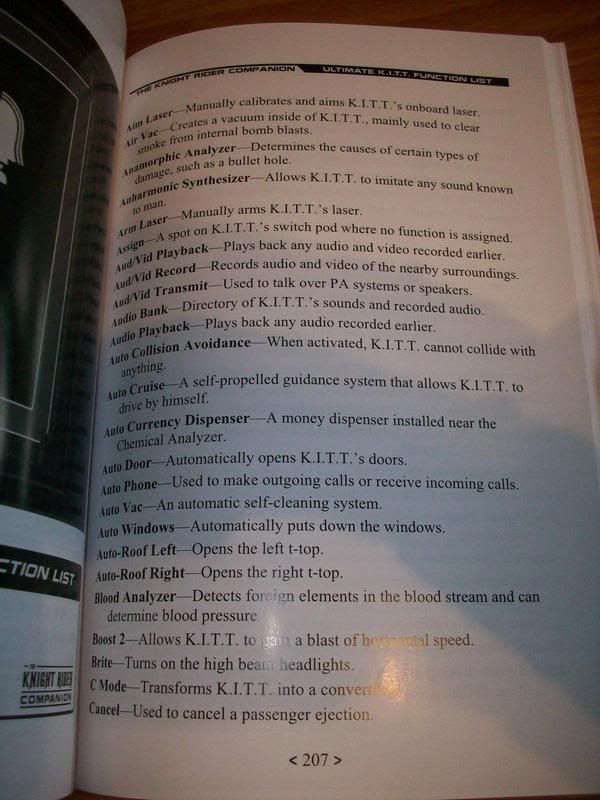 Legacy:
Also of note on the KITT function guide - this was a document I created way back in 1997 for my Knight Rider Universe website. When I did "Legacy", I updated it a little bit, but the original can be seen in this post:
http://knightrideronline.com/forum/viewtopic.php?f=1046&t=12749&p=150970&hilit=kitt+function+guide#p150970
"Goliath" Trivia and Notes
--------------------------
Companion:
Legacy:
What's funny about this one is that I made a mistake in "Legacy" that appears in "Companion"! See the one bullet above about "Valley of Fire"? I wrote, by accident, that it was a dry lake bed outside Las Vegas...however it's not a dry lake bed, but a state park with huge red rocks everywhere!
Q&A with Michael Scheffe
------------------------
Companion: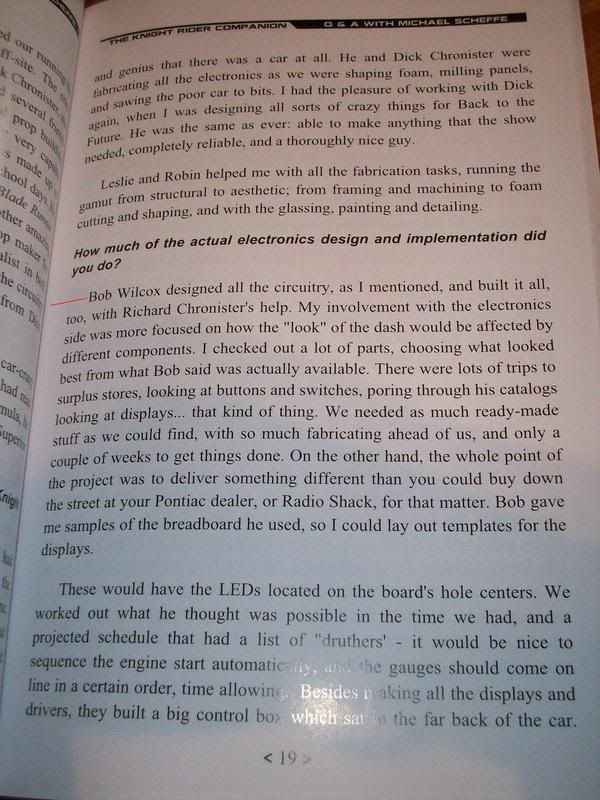 Legacy:
Q&A with Jack Gill
------------------
Companion: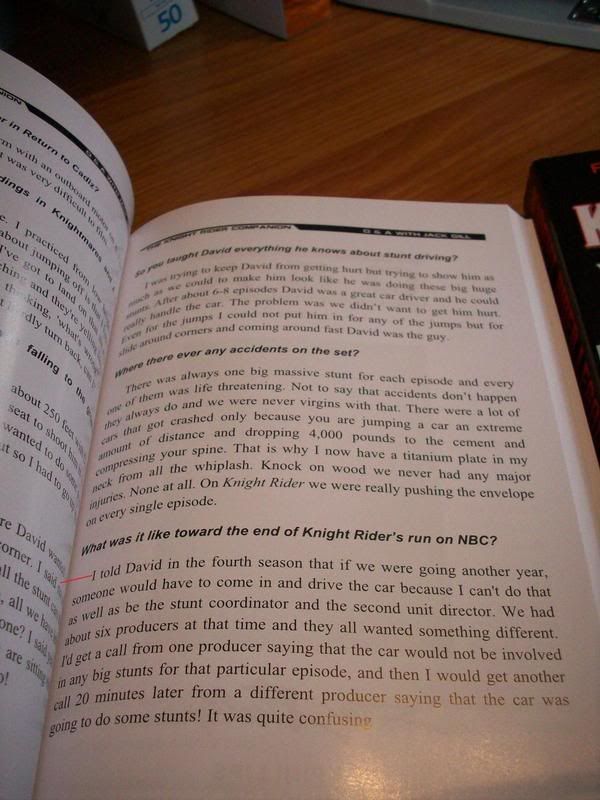 Legacy:
Pilot Trivia and Notes
----------------------
Companion: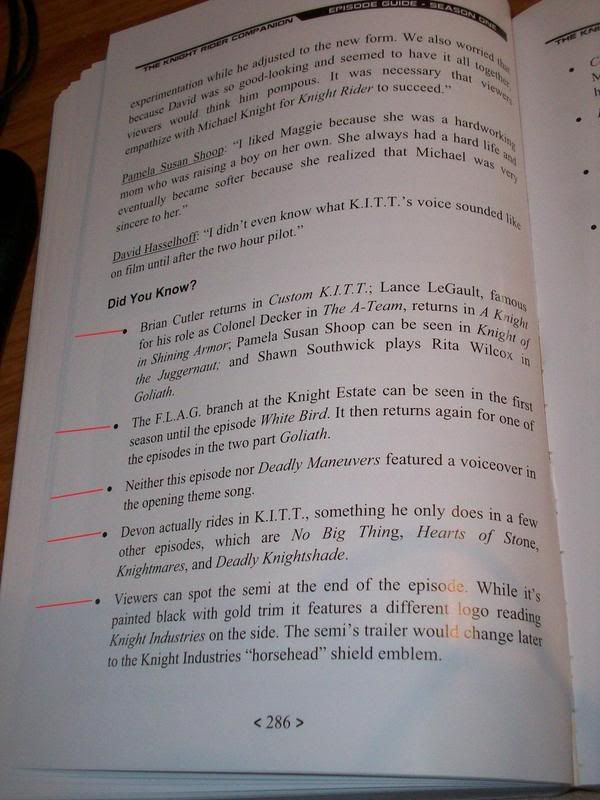 Legacy: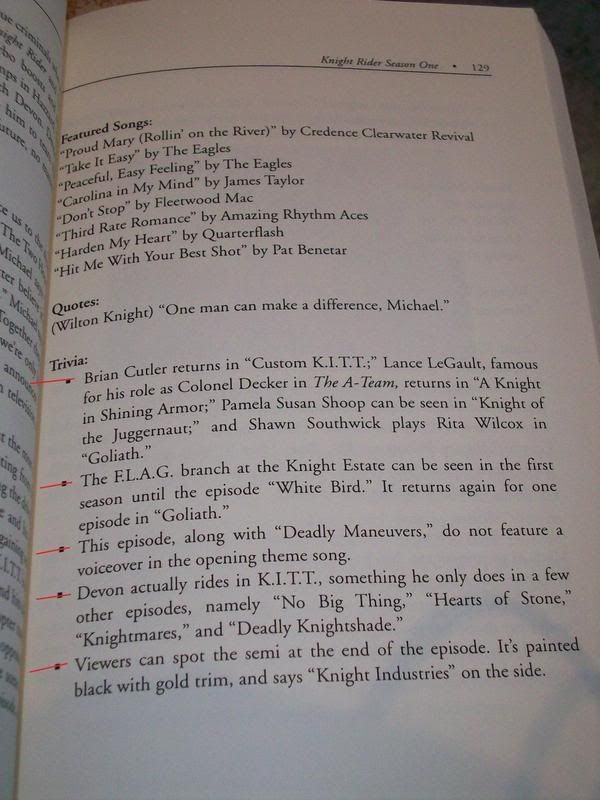 William Daniels Q&A
-------------------
Companion:
Legacy: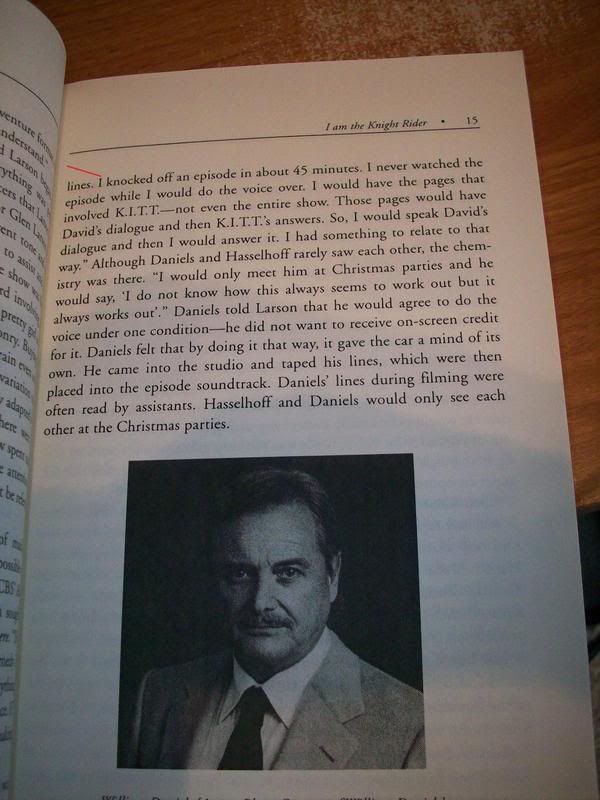 Patricia McPherson Q&A
----------------------
Companion: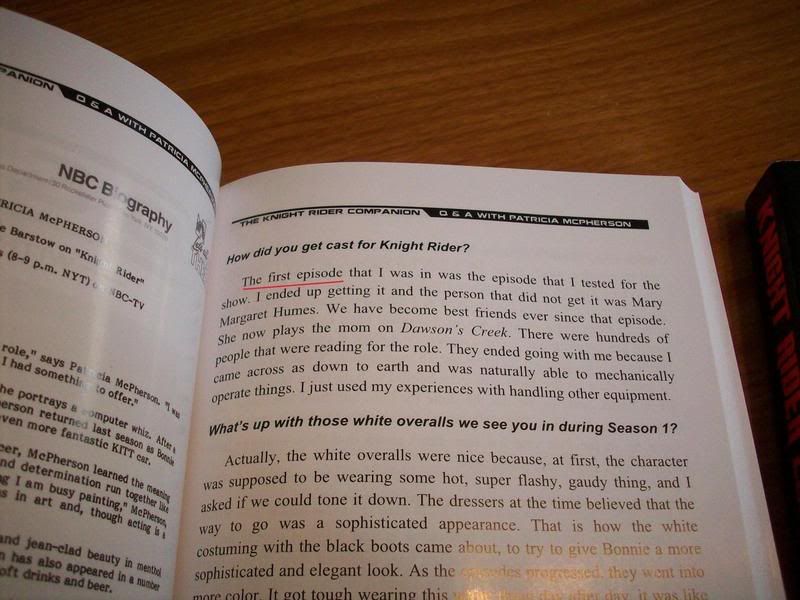 Legacy:
Jack Gill
---------
Companion:
Legacy:
Robert Ginty
------------
It's interesting that this shows up. I solely interviewed Robert for "Legacy". I remember well because I had a left a message with him and he called back at 1AM my time for the interview, and I was completely unprepared because I was sleeping.
Pilot Presentation
------------------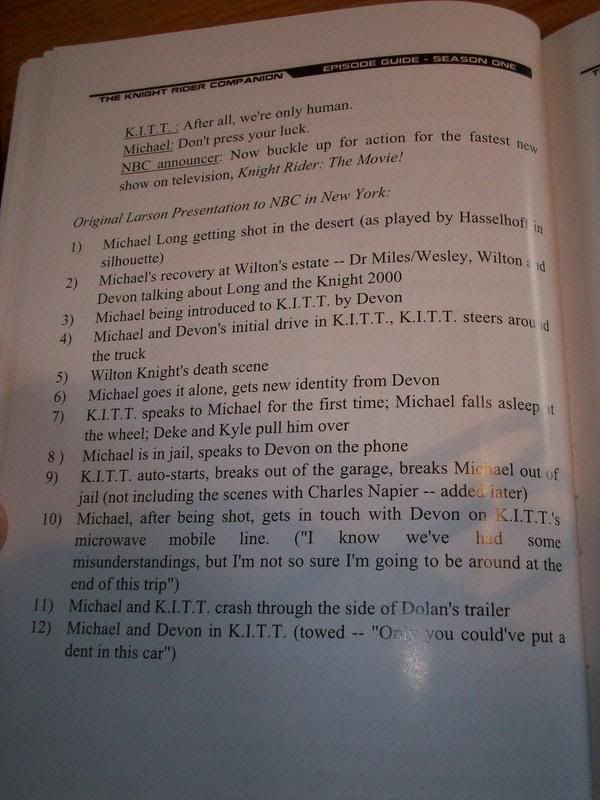 This breakdown of Pilot Presentation scenes was NOT in "Legacy", however I remember Paul from the Knight Rider Archive posting this on the boards at one point I believe.
And, to top this all off, my book is falling apart: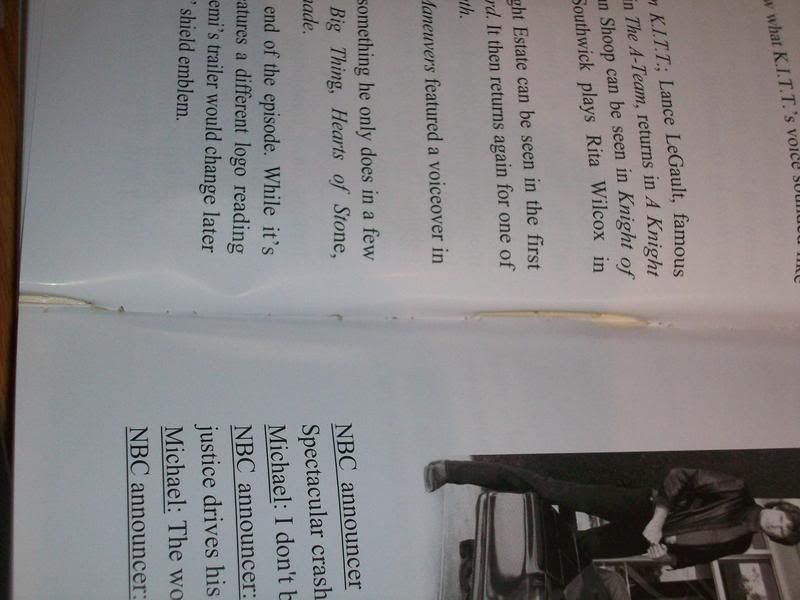 When I got to the back of the book, I noticed something interesting:
Interviews not conducted by Nick were used under license from Richie? Interesting, considering those interviews are not solely his possession. Yes, he set most of them up, however I was involved in EVERY interview except McPhersons. As was one other person who deserves credit.
And while we're laying all the cards on the table, you all should know that I was given the opportunity to re-make "Knight Rider Legacy" last year, with Richie co-authoring again and Nick doing the graphics. I backed out after some disagreements with Richie and Nick, but they still used material from "Legacy" anyways. In fact, here's the cover Nick designed back then:
Backing out of that deal was one decision I do not regret to this day.
Please note that the above are only a FRACTION of the examples I could show you. To show you all, I would have to take comparison pictures of nearly every page of both books.
If you all want to buy his book after reading this, that's your decision. It's only fair that you all know the truth before spending $50 or more of your hard earned money on it.
I look forward to Nick's long and highly italicized response.
Joe